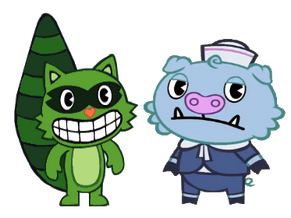 This article looks at the friendship between Truffles and Lifty in the show.
Truffles and Lifty so far appear to be friends and Lifty has not stolen anything from him.
Interactions
Edit
Lifty and Truffles are seen bringing planks of wood together to Nails' building project.
Truffles and Lifty are seen inside Truffless house boarding up the windows to protect themselves from Evil Flippy.
Ad blocker interference detected!
Wikia is a free-to-use site that makes money from advertising. We have a modified experience for viewers using ad blockers

Wikia is not accessible if you've made further modifications. Remove the custom ad blocker rule(s) and the page will load as expected.