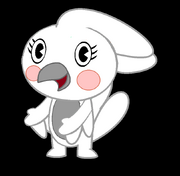 Character Bio
Edit
Trixie is a white goffin cockatoo with rosy red cheeks that lives in Happy Tree Town. She has a very friendly personality, likes being around people and hates to be alone. She enjoys talking and playing games with her friends. She will also do just about anything to get pistachio nuts, her favorite snack.
HTF Dimensions Info
Edit
Trixie appears only in dimension one in her major episodes. She appears in other dimensions as only cameos.
Starring Roles
Edit
Featuring Roles
Edit
Appearances
Edit
Additional
Edit
Ad blocker interference detected!
Wikia is a free-to-use site that makes money from advertising. We have a modified experience for viewers using ad blockers

Wikia is not accessible if you've made further modifications. Remove the custom ad blocker rule(s) and the page will load as expected.