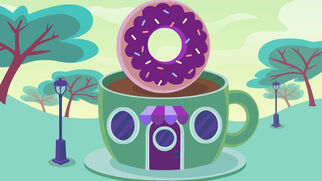 The doughnut shop is a small building with a few tables and chairs in the main room. The tree friends visit here to eat doughnuts and other pastry's.
So far it appears that Jumpy works there and is one of the main cooks. This is somewhat odd considering his personality however he enjoys cooking so he seems to like working there.
Menu items
Edit
Milk
Chocolate Milk
Juice
Plain Doughnuts
Glazed Doughnuts
Frosted Doughnuts
Vanilla Shake
Croissants
Various Cakes
Cookies
Appearances in Episodes
Edit
Ad blocker interference detected!
Wikia is a free-to-use site that makes money from advertising. We have a modified experience for viewers using ad blockers

Wikia is not accessible if you've made further modifications. Remove the custom ad blocker rule(s) and the page will load as expected.