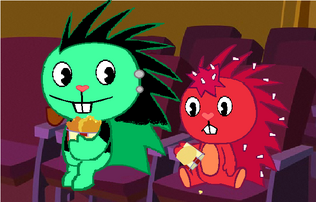 Appearances
Edit
At the movies, a slightly younger Flaky runs out of popcorn, so Pierce gives his tub of popcorn to her. Stuffing a large quantity of popcorn into her mouth and attempting to swallow it all at once, Flaky chokes on the popcorn and dies after failing to get her cousin's attention and help. Too focused on the movie to notice his cousin had just died seconds ago, Pierce just grunts at Flaky. The scene then changes to the popcorn box Flaky was given, which reads "HTF Break".
Flaky dies from choking on popcorn.
Ad blocker interference detected!
Wikia is a free-to-use site that makes money from advertising. We have a modified experience for viewers using ad blockers

Wikia is not accessible if you've made further modifications. Remove the custom ad blocker rule(s) and the page will load as expected.