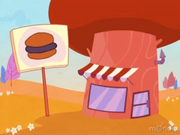 A small burger joint, similar to the Happy Tree Town Dinner, that has a small kitchen, an order window and chairs for the customers. It seems to be a very popular little place and many tree friends have been there to hang out and eat.
Menu items
Edit
Small Soda
Chesse Burger
Grilled Cheese
Hamburger
Double Hamburger (2 patties)
Chocolate Shake
French Fires
Chilli Fries
Small Salad
Appearances in Episodes
Edit
Ad blocker interference detected!
Wikia is a free-to-use site that makes money from advertising. We have a modified experience for viewers using ad blockers

Wikia is not accessible if you've made further modifications. Remove the custom ad blocker rule(s) and the page will load as expected.