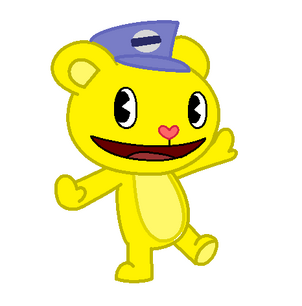 Stamp is one of Lord O' Darkness's adopted characters. He makes appearances in the Happy Tree Friends Dimensions world.
Character Bio
Edit
Stamp is a yellow bear whose main job is to deliver mail around town. However, he regularly messes up somehow and ends up injuring himself and others. An unusual feature about him is that he lacks buckteeth.
HTF Dimensions Info
Edit
Stamp appears in all of the HTF Dimensions.
He is usually only a background or a 'featuring' character.
Starring Roles
Edit
TBA
Featuring Roles
Edit
TBA
Appearances
Edit
DOC 9000 - Splattered by a door.
Injuries TBA
Additional
Edit
Stamp Wallpaper - Top part of head pops off and brain is exposed.
He is sometimes called "Gummy" by bullies because of his lack of visible buckteeth.
Ad blocker interference detected!
Wikia is a free-to-use site that makes money from advertising. We have a modified experience for viewers using ad blockers

Wikia is not accessible if you've made further modifications. Remove the custom ad blocker rule(s) and the page will load as expected.