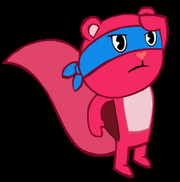 Character Bio
Edit
Splendont is a rival and archenemy of Splendid. He is almost exactly identical to Splendid, though his colouring is the exact opposite to Splendid's. He is first seen trapped in a mirror floating around space. The mirror was shattered by Splendid. He then flew to Earth and started taking over Spendid's job of saving people, doing so far more competently.
Personality
Edit
He may have been originally a hero as well, but he got caught up in fights with Splendid and killed several tree friends on accident. Splendid had greeted him and proposed a partnership, but Splendont refused. Other than this, he seems to be just Antisocial but not homicidal.
HTF Dimensions info
Edit
Splendont is in all dimensions as he is a canon Happy Tree Friends character.
Starring Roles
Edit
Featuring Roles
Edit
Appearances
Edit
TBA
TBA
Additional
Edit
TBA
Ad blocker interference detected!
Wikia is a free-to-use site that makes money from advertising. We have a modified experience for viewers using ad blockers

Wikia is not accessible if you've made further modifications. Remove the custom ad blocker rule(s) and the page will load as expected.