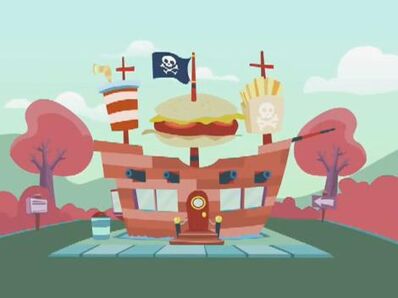 Russell's Fast Food Restaurant is one of the food establishments in Happy Tree Town. It is owned and managed by Russell. The main cook here is Fry.
The outside is shaped like a pirate ship with soda, a burger, and fries on top. There is also a drive through that goes around the back. The main room has many booths and tables for tree friends to eat. There is a small wall that is near the cash registers and the soda machine is by here. The kitchen is behind the counter and contains the typical fast food appliances.
Play Area
Edit
Russell also has another room in his restaurant for younger tree friends. It is a play center with lots of small rubber pirate ships and an island hideout.
Ad blocker interference detected!
Wikia is a free-to-use site that makes money from advertising. We have a modified experience for viewers using ad blockers

Wikia is not accessible if you've made further modifications. Remove the custom ad blocker rule(s) and the page will load as expected.