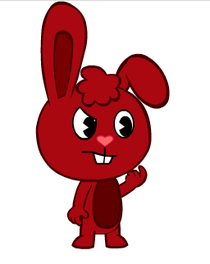 Character Bio
Edit
Gus is a red rabbit that enjoys anything extreme. He enjoys watching action movies and skateboarding.
Personality
Edit
Gus is generally friendly, but will sometimes make fun of others to make himself look better.
HTF Dimensions info
Edit
Gus is in all dimensions.
Featuring Roles
Edit
Appearances
Edit
Sweet Ride - Sliced
Remain Seated - Impaled
Take a Hike - Impaled on spike
Take a Hike - Drinks contaminated water
Additional
Edit
Ad blocker interference detected!
Wikia is a free-to-use site that makes money from advertising. We have a modified experience for viewers using ad blockers

Wikia is not accessible if you've made further modifications. Remove the custom ad blocker rule(s) and the page will load as expected.