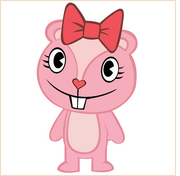 Character Bio
Edit
Giggles is a pink chipmunk who has a white diamond-shaped marking, a white oval on her torso, and wears a big red bow on her head.
Her deaths usually involve being crushed, her chest or her head.
Personality
Edit
Giggles acts like a typical sweet "girly" girl, as she enjoys frolicking through flowers, having tea parties with Petunia, ice skating, and having a sweet demeanor. Her name comes from her habit of giggling often.
HTF Dimensions info
Edit
Giggles is in all dimensions.
Starring Roles
Edit
Featuring Roles
Edit
Appearances
Edit
Sparks will Fly - Decapitated by Flippy
Flightplan - Flies out of plane
Remain Seated - Hit by roller coaster
Dark Ride - Neck snapped by Snuffly
Porcupines in Crime - Drowns in Splendid's vomit
Additional
Edit
Ad blocker interference detected!
Wikia is a free-to-use site that makes money from advertising. We have a modified experience for viewers using ad blockers

Wikia is not accessible if you've made further modifications. Remove the custom ad blocker rule(s) and the page will load as expected.