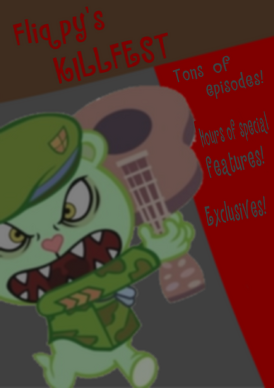 Fliqpy's KillFest
is a DVD dedicated to
Evil Flippy
. Not all episodes with Flippy are shown, only ones where his evil side is the main part of the episode.
Special Features
Edit
Commentary for episodes
The beginning of Fliqpy: How Mondo Media came up with Flippy's concept
Fans of Fliqpy: The creators thoughts on why Flippy is so popular
Kills Galore: A mash up of all of Fliqpy's kills.
Pairings of Fliqpy: A look at the HTFDimensions couples that involve Fliqpy, including some non-cannon ones.
Fliqpy T-shirts: A look at some designs of Fliqpy T-shirts.
Ad blocker interference detected!
Wikia is a free-to-use site that makes money from advertising. We have a modified experience for viewers using ad blockers

Wikia is not accessible if you've made further modifications. Remove the custom ad blocker rule(s) and the page will load as expected.