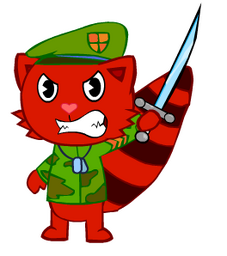 Character Bio
Edit
Flare is a red raccoon that served in the war. He was in mainland battle and saw many horrific things as a result. He developed PTSD but sees therapists regularly and almost never kills other characters as a result.
When he does flip out he is very cruel and sadistic towards his victims often torturing them before they die. The only times he flips out are when he experiences or sees something traumatic. Noises or sounds do not trigger him to flip out.
Personality
Edit
Flare is friendly, but is also quiet. He is proud of his work done in the war and keeps his bowie knife he used with him to show others.
HTF Dimensions Info
Edit
Flare is in all HTF Dimensions.
Starring Roles
Edit
Featuring Roles
Edit
TBA
Appearances
Edit
TBA
TBA
Additional
Edit
Ad blocker interference detected!
Wikia is a free-to-use site that makes money from advertising. We have a modified experience for viewers using ad blockers

Wikia is not accessible if you've made further modifications. Remove the custom ad blocker rule(s) and the page will load as expected.