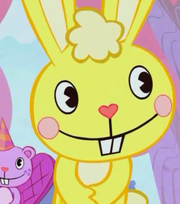 Character Bio
Edit
Cuddles is a yellow rabbit who is generally friendly towards everyone. Sometimes he can be mischievous and childish which can lead to the death of others. In a few situations he has been seen to act quickly without thinking. He enjoys skateboarding and sports.
Cuddles suffers from epilepsy and is sensitive to quickly moving lights.
Personality
Edit
Cuddles' personality is somewhat mixed. Most of the time he is a kind character, and gets along with others well. But Sometimes he acts lazy or child-like which can cause him to be an annoyance to some.
HTF Dimensions info
Edit
Cuddles is in all dimensions as he is a canon Happy Tree Friends character.
Starring Roles
Edit
Featuring Roles
Edit
TBA
Appearances
Edit
House Warming - Possibly breaks his back
My Better Half - Sawed in half
Flipzilla - Decapitated
Additional
Edit
Ad blocker interference detected!
Wikia is a free-to-use site that makes money from advertising. We have a modified experience for viewers using ad blockers

Wikia is not accessible if you've made further modifications. Remove the custom ad blocker rule(s) and the page will load as expected.